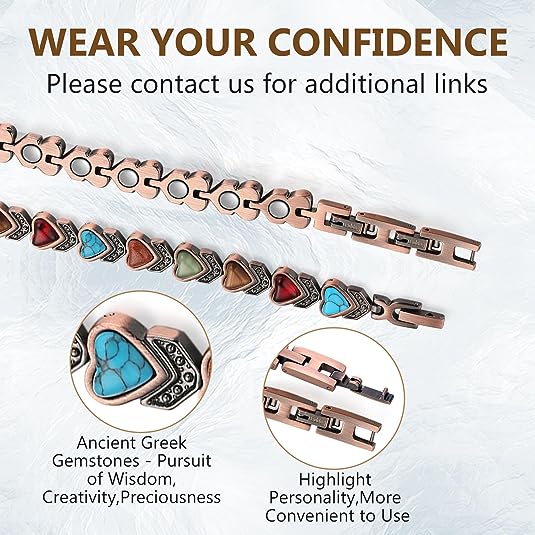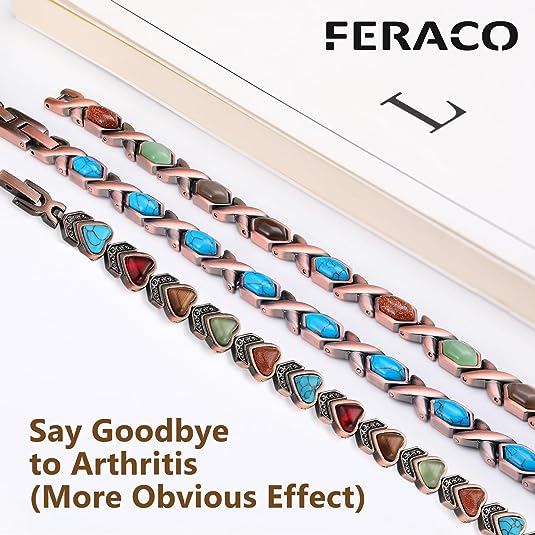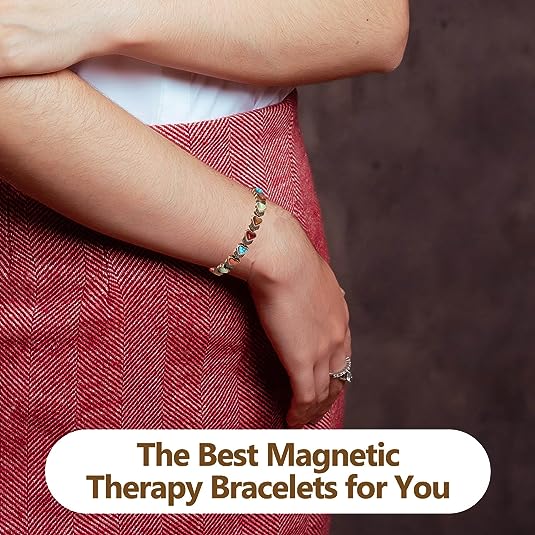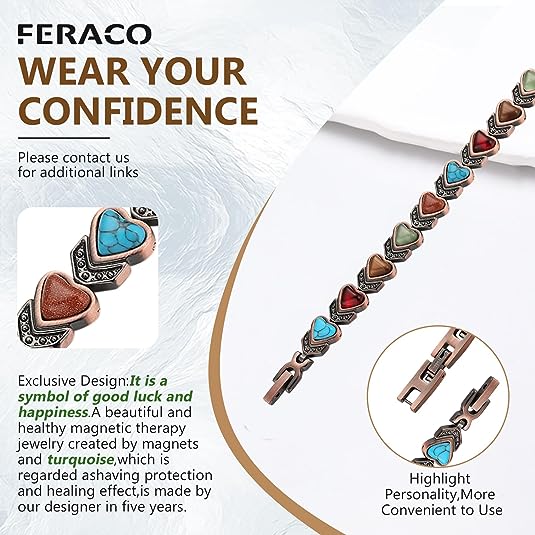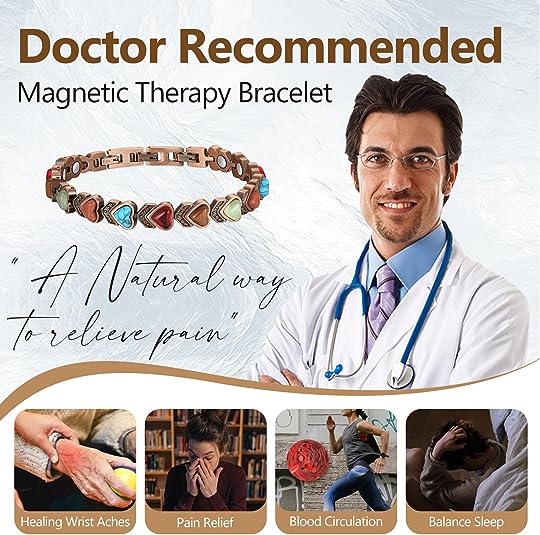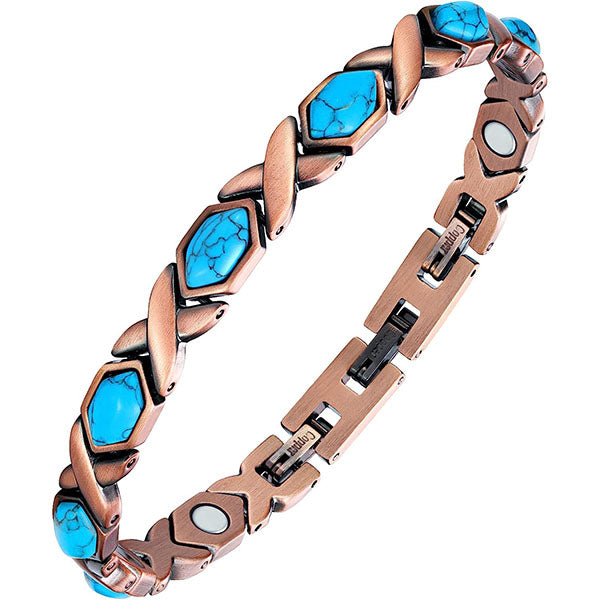 Pure Copper Lymph Detox Magnetic Therapy Bracelets for Carpal Tunnel and Relief Pain
✅EMBRACE COMFORT-Crafted with superior pure copper,Feraco copper bracelets withstands oxidation and scratches,courtesy of our top-tier technology.And with a focus on sustainable production,you can flaunt this piece guilt-free,enjoying the comfort it offers.
✅HARNESS NATURAL HEALING-Our Eco-friendly magnetic bracelets for women carries a natural potent 3500-gauss magnet within.Each magnet has been optimized for perfect alignment with your body's needs,creating an invisible shield of wellness around you.
✅WEAR YOUR CONFIDENCE-Feraco's exclusive design magnetic bracelet encrusted with heart-shaped turquoise gems.It emblem represents good fortune and happiness,and serves as a tribute to your unwavering confidence.
✅TAILORED FIT-No two wrists are the same,and we've embraced that with our adjustable design.Each copper healing bracelet arrives with 3 clasps and a convenient link removal tool,attaining the perfect fit.
✅GIFT ELEGANCE-Nestled within an elegantly designed box,Feraco bracelet makes an exceptional gift for yourself or a loved one.Layer it with other pieces or let it shine solo - it's the perfect addition to any ensemble.

At Feraco, we are dedicated to providing high-quality and stylish magnetic therapy bracelets that not only look great but also provide real health benefits. Our collection features a wide variety of styles, designs, and materials to suit every taste and need.
We use only the finest quality materials including premium grade metals, genuine leather, and natural stones. Each bracelet is carefully crafted with attention to detail to ensure maximum durability and longevity.
Our team is committed to delivering exceptional customer service and ensuring that each and every customer is completely satisfied with their purchase. We offer fast and free shipping, hassle-free returns and exchanges, and a 100% satisfaction guarantee.
When you choose Feraco Jewelry, you can rest assured that you are getting the best value for your money, along with a product that will provide real health benefits and last for years to come. So why wait? Start shopping now and experience the many benefits of magnetic therapy for yourself!
We offer free standard delivery on U.S.(3-5 business days).

All orders are processed within one business day and ship from our US warehouses.
If for any reason you are not completely satisfied with your purchase, you may return the item(s) within 90 days for a refund
Copper and magnets are supposed to help ease arthritis,too early to tell.
Stylish, attractive, fairly easy to remove links. Just waiting to see if it helps me.
Noticeable decrease in joint pain.
I wanted to wear the bracelet for a while before writing a review. I really like the finish and style of it. I personally prefer thicker heavier bracelets but that is by no means a criticism of this. It comes with plenty of spare links and the tool that is included for adding/removing links when sizing is easy to use; was impressed it came with that.After wearing this bracelet for a full month nonstop I do actually notice less joint pain. For me, I notice the difference in my knees, and I have a lot less discomfort and pain in my knees than before I bought this. I can only attribute that to the copper and magnets. I dont know if one of those does more than the other but Im happy
Love it. Perfect
Really super happy with this bracelet. Looks great. Feels great and the fact that it came with the tools needed to adjust size made it fit perfect without having to go to the jewelry shop to adjust fit. Thank you. A PLUS
Good quality, looks good, may have worked
Quality seems top notch. Im impressed with the color and patina. It comes with a nice sizing kit thats probably worth at least 5 bucks I wore it out of the box, and the pic shows how large it is on an average size wrist. Ill take a couple links out, I like my watches and bracelets to run low on my wrist. Ill order the other colors in the next week or so. A 4 week intense pain bout with the initial brachial neuritis diagnosis ended after 2 days wearing this. Pain scale was 2-8 with trips to urgent care and doctor visits for help with pain management. Did the bracelet help? The disease may have just ran its course. But hey, it didnt hurt to try it? Im sure as heck not taking it off to see
He loved it
I bought this for my fiance as an engagement gift. He loves the style and says that it does reduce arthritic pain for him. Additionally, he reports that it holds up when he does handyman work for folks, so it is definitely durable and holds color well.