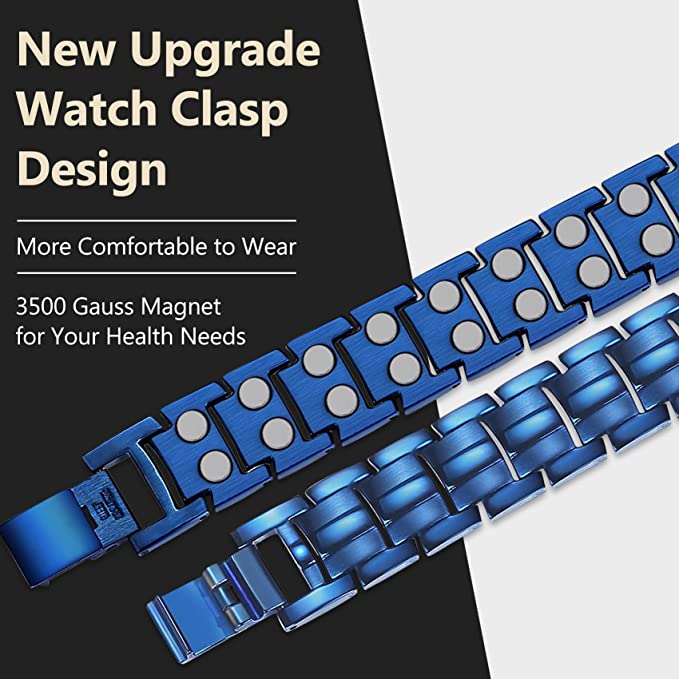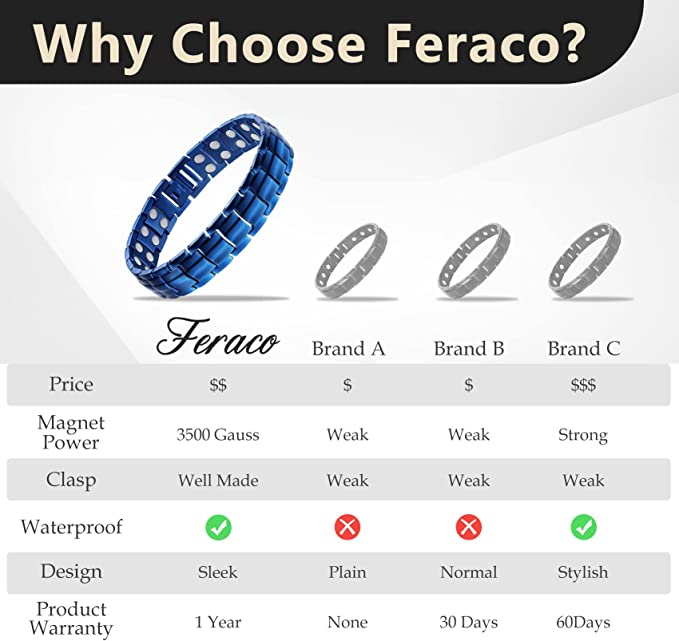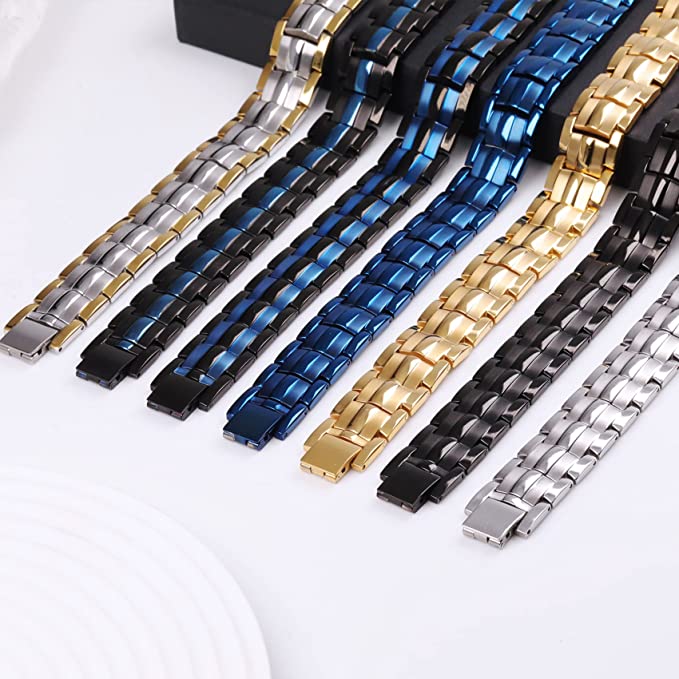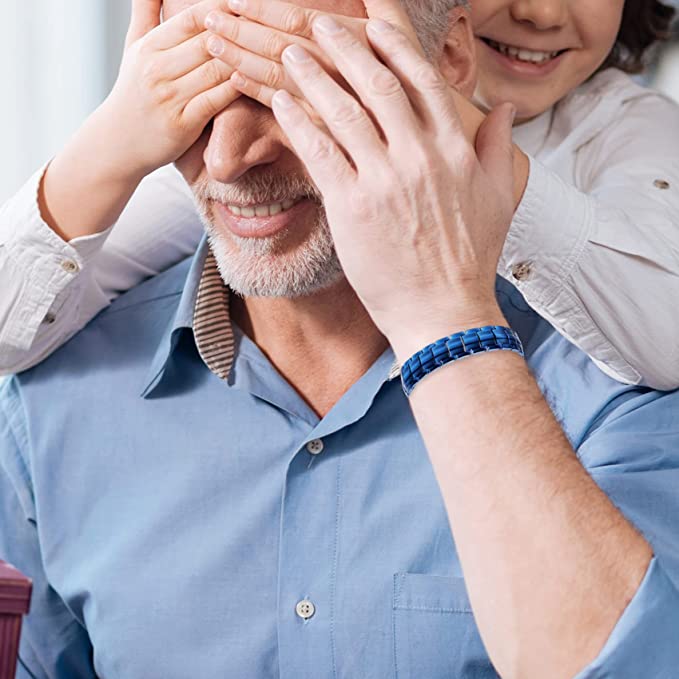 Midnight Blue Double Row Magnets Titanium Steel Magnetic Bracelet
✅Magnetic Bracelet for Men: Embedded with 2 rows magnets for better effectiveness.
✅Titanium Steel Bracelet: The magnetic bracelet for men is made of titanium steel, free of lead and nickel, hypoallergenic, light weight, shiny, waterproof, corrosion resistant and durable. It can be worn comfortably for a long time.
✅Easy to Adjust: Length: 8.66in (22cm), Width:0.59in (1.5cm), Weight:61g. Every magnetic bracelet comes with a link removal tool. You could adjust the size anywhere you want and make it perfectly fit your wrist. We could also provide extra links on your request.
✅Classic Design: The titanium steel bracelet has a classic plated black finish with blue line. Its elegant design can be matched with variety of dressing styles for office, business occasions, outdoor sports and other daily scenes. It is an essential accessory that fits most men and definitely a finishing touch for your outfit.
✅Perfect Gift: The magnetic bracelet for men is packaged with an exquisite & elegant gift box. It is a trustworthy choice for the loved ones in life as a gift on special days such as anniversary, father's day, Christmas, birthday, thanksgiving day, etc.
At Feraco, we are dedicated to providing high-quality and stylish magnetic therapy bracelets that not only look great but also provide real health benefits. Our collection features a wide variety of styles, designs, and materials to suit every taste and need.
We use only the finest quality materials including premium grade metals, genuine leather, and natural stones. Each bracelet is carefully crafted with attention to detail to ensure maximum durability and longevity.
Our team is committed to delivering exceptional customer service and ensuring that each and every customer is completely satisfied with their purchase. We offer fast and free shipping, hassle-free returns and exchanges, and a 100% satisfaction guarantee.
When you choose Feraco Jewelry, you can rest assured that you are getting the best value for your money, along with a product that will provide real health benefits and last for years to come. So why wait? Start shopping now and experience the many benefits of magnetic therapy for yourself!
We offer free standard delivery on U.S.(3-5 business days).

All orders are processed within one business day and ship from our US warehouses.
If for any reason you are not completely satisfied with your purchase, you may return the item(s) within 90 days for a refund
Easy to adjust to the perfect size.
This looks good, much better than most Ive seen. It came with a tool to remove links to make it the perfect fit. Having links instead of a solid cuff is much more comfortable.
AMAZING CUSTOMER SERVICE
This bracelet ALMOST fits my wrist. Im 65, 325 and my wrists are pretty big. and they offered to provide a discount code for me to order another bracelet and use those links. So, yeah I had to buy two bracelets, but with the 50% off code for the second it wasnt too bad. Plus I now have plenty of links and could probably give that second bracelet to a family member or something..depending on how many links I use. Either way I think it was a great compromise, and I really appreciate how easy they were to work with on this. All in all its a great product and company.