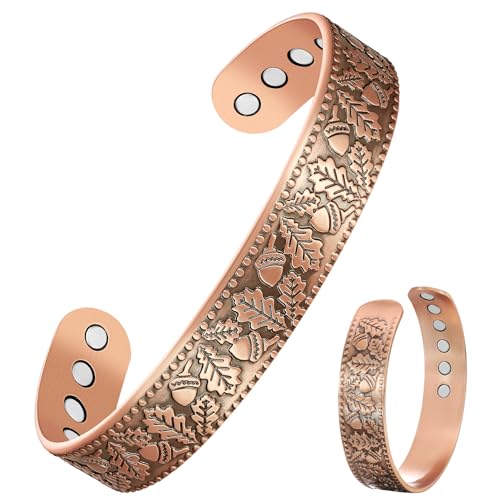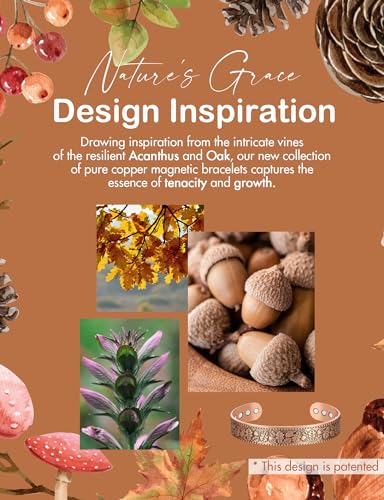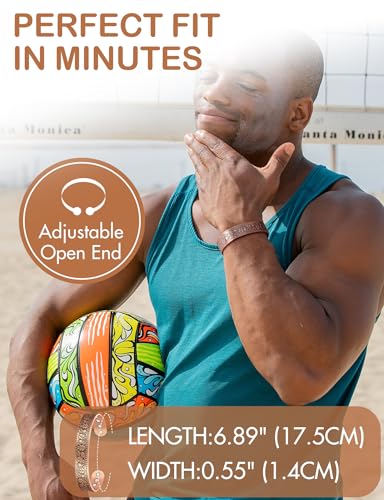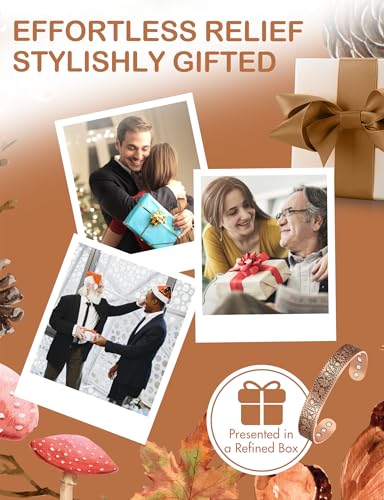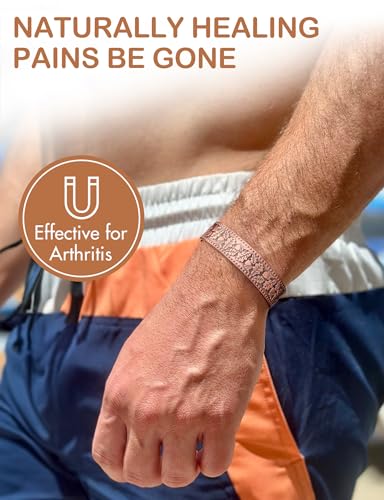 Feraco Copper Magnetic Bracelets for Men Women with Healing Magnets Oak
Item Display Length:
6.97 Inches
12X Magnetic Power: Immerse in the age-old benefits of magnetic therapy with this men's copper bracelets, featuring 12 neodymium magnets. With a potent strength of 3800 gauss, it effectively promotes pain relief, reduces inflammation, and enhances circulation.
Premium Craftsmanship: Meticulously fashioned from 99.99% solid copper, this magnetic bracelets for men is hypoallergenic, free of lead and nickel, and built to last. Its protective lacquer coating ensures enduring brilliance and wards off scratches, preserving its pristine appeal.
Nature-Inspired Design: Original Nature's Grace collection - where pure copper magnetic bracelets showcase the enduring spirit of growth. Engraved Oak motifs reflect inner strength, while magnetic elements embrace holistic well-being for a harmonious blend of nature and wellness.
Customized Comfort: The open closure design of the copper magnetic bracelet for men guarantees a perfect fit on any wrist. Effortlessly adjust the size with a gentle squeeze or pull. Dimensions: Length - 6.89" (17.5cm), Width - 0.55" (1.4cm).
Elegant Gift Choice: Presented in a refined box, this mens magnetic bracelet is a distinctive and stylish accessory, ideal for gifting. Whether worn individually or stacked with other pieces, it creates a personalized look. Embrace the magnetic therapy benefits today!
At Feraco, we are dedicated to providing high-quality and stylish magnetic therapy bracelets that not only look great but also provide real health benefits. Our collection features a wide variety of styles, designs, and materials to suit every taste and need.
We use only the finest quality materials including premium grade metals, genuine leather, and natural stones. Each bracelet is carefully crafted with attention to detail to ensure maximum durability and longevity.
Our team is committed to delivering exceptional customer service and ensuring that each and every customer is completely satisfied with their purchase. We offer fast and free shipping, hassle-free returns and exchanges, and a 100% satisfaction guarantee.
When you choose Feraco Jewelry, you can rest assured that you are getting the best value for your money, along with a product that will provide real health benefits and last for years to come. So why wait? Start shopping now and experience the many benefits of magnetic therapy for yourself!
We offer free standard delivery on U.S.(3-5 business days).

All orders are processed within one business day and ship from our US warehouses.
If for any reason you are not completely satisfied with your purchase, you may return the item(s) within 90 days for a refund